eduClipper is a platform intended solely for the K-12 space.  Content not appropriate for the school environment is not allowed to be created on our site.  That said, as with all social platforms, we do not create all the content and if there is something added to the site that you or your students find particularly offensive or in violation of our Terms of Service, you may help moderate it off the site by flagging it.
To flag the content, hover over an eduClip or eduClipboard and click on the Flag icon.  You will be shown options to inform us why you are reporting it.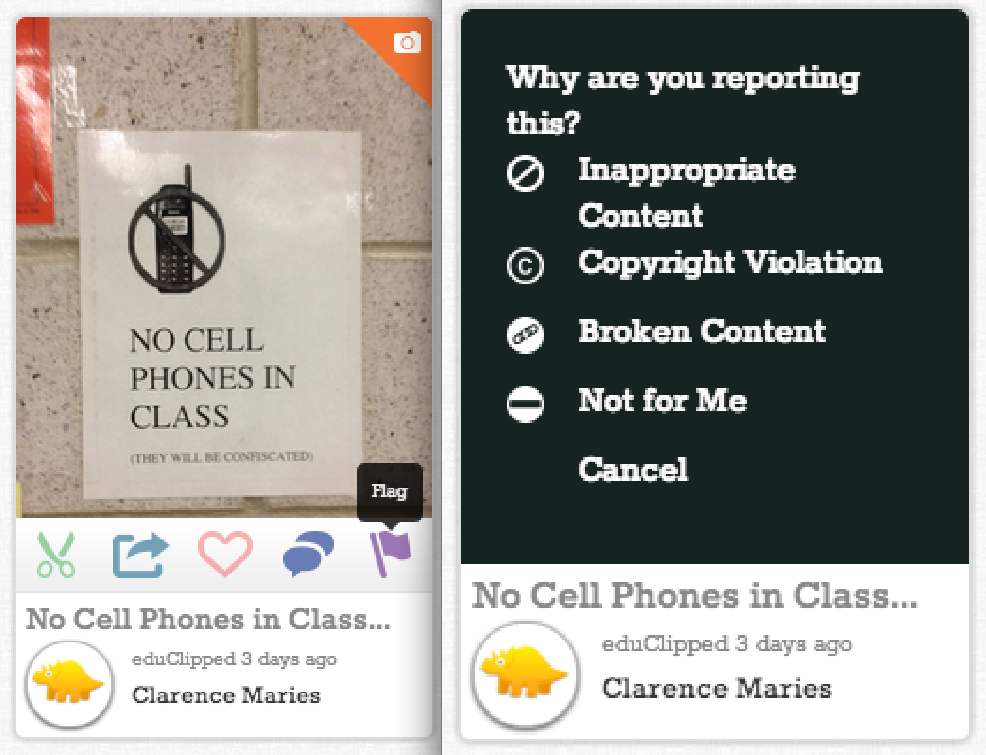 When you flag a piece of content, the following will happen.  It will be frozen from the site meaning that it is no longer able to be seen.  The user will get an Email notification that their content has been flagged and why.  Their teacher (if associated with an educator) will also receive an Email letting them know that the students content has been reported.
The student may enter an appeal for the content which will be sent to their teacher and eduClipper employees.
Teachers may then moderate the content for the student by either marking it Private or by Deleting it from the site.
eduClipper employees will also receive a notification and if the content is in violation we may act and remove the content.  If the content is not in violation we will let the teacher act or if it was a clear mis-reporting, we may reinstate the content.
Please note that we police the site very often and will do our best to keep all content clean.